Tropical Forests in a Warmer World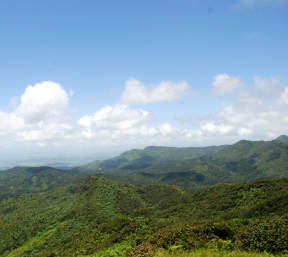 Significant increases in temperature are predicted for tropical regions in the coming decades. Most tropical forests are adapted to narrow temperature ranges with mean annual temperatures >20 oC. It is thus very likely that tropical forests will be increasingly exposed to conditions that are beyond their natural climate regime. Recent research suggest a strong potential for temperature to significantly affect processes related to carbon cycling and storage in tropical forests; however, an overall lack of data on temperature responses in these forests makes it difficult to resolve with certainty whether tropical forests will be a net source or sink for carbon in a warmer world. While the literature recognizes that concurrent assessment of above- and belowground processes is critical to assessing the effects of warming on the net carbon balance of forests, most experimental studies, particularly those in forests, focus on processes either above- or belowground. One of the major goals of my research is to investigate temperature effects on biological processes essential to the regulation of carbon and nutrient cycling in tropical forests. In line with this interest, I am currently leading a large, collaborative effort to establish the first field warming experiment in Puerto Rico.
http://www.forestwarming.
org
Relevant Publications:
Cavaleri, M. A., Reed, S. C., Smith, W. K., & Wood, T. E. (2015). Urgent need for warming experiments in tropical forests. Global change biology, 21(6), 2111-2121.

Wood, T.E.; Cavaleri, M.A.; Reed, S.C. 2012. Tropical forest carbon balance in a warmer world: A critical review spanning microbial- to ecosystem-scale processes. Biological Reviews. doi: 10.1111/j.1469-185X.2012.00232.x
Reed, S.C., Wood T.E., Cavaleri M.A. 2011. Tropical forests in a warming world. New Phytologist. doi: 10.1111/j.1469-8137.2011.03985.x

US DOE. 2012. Research Priorities for Tropical Ecosystems Under Climate Change Workshop Report, DOE/SC-0153. U.S. Department of Energy Office of Science. http://tes.science.energy.gov/node/98

---
Soil Moisture Controls on Carbon and Nutrient Cycling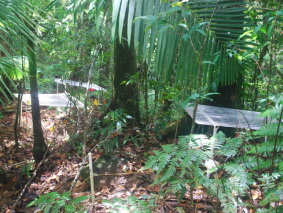 Tropical forests are a central component of the earth system, exchanging more carbon, energy and water with the atmosphere than any other biome. As such, any changes in their extent, structure, or functioning will have consequences for the trajectory of atmospheric carbon dioxide and associated feedbacks to climate. In recent decades, episodic droughts have severely affected tropical forests on a global scale, and model predictions indicate large tracts of tropical forested areas are likely to experience increasing frequency of drought in the coming decades. However, establishing how tropical forests will respond to periods of anomalously low rainfall represents a significant challenge because natural droughts are rare in space and time. Rainfall manipulation experiments thus provide critical information on the response of tropical forests to drought in a timeframe that is relevant to decision makers. I am currently investigating the effects of drought on carbon and nutrient cycling, microbial ecology, and greenhouse gas emissions of a humid tropical forest in Puerto Rico.
Relevant Publications:
Meir, P., Wood, T. E., Galbraith, D. R., Brando, P. M., Da Costa, A. C., Rowland, L., & Ferreira, L. V. (2015). Threshold responses to soil moisture deficit by trees and soil in tropical rain forests: insights from field experiments. BioScience, 65(9), 882-892.

Bouskill, N.J., Baran, R., Wood, T.E., Bowen, B.P., Lim, H.C., Van Norstrand, J.D., Zhou J., Hao Z., Holman H., Silver, W.L., Northen, T.R., Brodie, E.L. In Preparation. Prolonged experimental drought in a tropical forest alters microbial functional diversity and modifies dissolved organic carbon composition.
Wood, T.E., Silver, W.L, Detto, M. 2013. Temperature and soil moisture controls on soil respiration of a humid tropical forest. PLoS ONE 8(12):e80965.
Wood, T.E. and Silver, W.L. 2012. Strong spatial variability in trace gasdynamics following experimental drought in a humid tropical forest. Global Biogeochemical Cycles. 26, GB3005, doi:10.1029/2010GB004014
Cleveland, C.C. and Sullivan, B.W. 2012. Biogeochemistry: Drought and tropical soil emissions. Nature, 489: 211-212.
Bouskill NJ, Lim HC, Borglin S, Salve R, Wood TE, Silver WL, Brodie EL. 2012. Pre-exposure to short-term drought increases the resistance of subtropical forest soil bacterial communities to extended drought. International Society of Microbial Ecology. doi:10.1038/ismej.2012.113

---
Long-term Variability in Leaf Litter Nutrient Cycling
Biogeochemical cycling occurs at multiple spatial and temporal scales. Through an improved understanding of factors that drive natural variability in biogeochemical cycles we can gain a better understanding of how these systems are likely to respond to future perturbation. Long-term data are especially rare for tropical forests, and I plan to take advantage of two long-term leaf litter archives from Puerto Rico and Costa Rica (15-18 years) to investigate patterns of leaf litter nutrient cycling and how these patterns relate to variability in climate. This work will reveal whether short-term observations hold over the longer-term and will provide critical data for validating models.
Relevant Publications:
Wood TE, Lawrence D., Emanuel R. Species effects on stand-level nutrient economy of a Costa Rican rain forest: modeling from field data. In preparation for Ecological Applications.
McGlynn T.P., Dunn R.R., Salinas D.J., Wood T.E., Lawrence D., Clark D.A. 2007. Phosphorus limits tropical rain forest litter fauna. Biotropica. 39(1): 50-53.

Wood TE, Lawrence D, Clark DA. 2006. Determinants of leaf litter nutrient cycling in a tropical rain forest: fertility versus topography. Ecosystems. 9: 700-710.

Wood TE, Lawrence D, Clark DA. 2005. Variation in leaf litter nutrients of a Costa Rican rain forest is related to precipitation. Biogeochemistry. 73: 417-437.
---
Legacies of Land-use History on Ecosystem Recovery and Function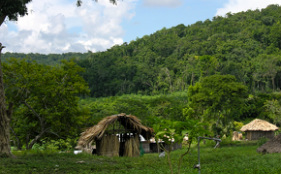 A large proportion of the tropics are in secondary forest, regenerating from abandoned pasture and agricultural land. As these forests regenerate, species composition is likely to change, which could significantly alter the structure and function of these forests. I have worked in the Southern Yucatan Peninsula Region (SYPR) in Mexico where shifting cultivation of maiz (corn) is a common land-use practice. This method of cultivation involves cutting and burning of forest, followed by two to four years of maiz cultivation. The fields are then abandoned and the forest is allowed to regenerate for a varying number of years before the cycle is repeated. Working in collaboration with Dr. Deborah Lawrence, I am investigating moisture and nutrient controls on biomass accrual and C sequestration in forest regenerated from maiz cultivation in both a wet and dry region of the Southern Yucatan Peninsula.
Relevant Publications:
Wood TE, Lawrence D. Links between soil nutrient availability and forest regeneration of a dry tropical forest in the Southern Yucatan Peninsula. In preparation for Forest Ecology & Management.
---
Controls of Oxygen on Methane Production and Oxidation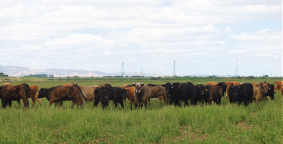 The San Joaquin Delta is the largest estuary in the Western United States and supplies 2/3 of the water to the state of California. It is additionally a significant source of methane to the atmosphere, due largely to water and nutrient management. Using stable isotope tracers and methane oxidation inhibitors I am investigating oxygen and soil moisture controls on methane production and oxidation along the depth profile in collaboration with Dr. Whendee Silver and Dr. Wendy Yang. Results from these experiments have generated intriguing results regarding controls on methane and carbon dioxide production in these soils, and have led us to ask additional questions about the nutrient rich canal water used in irrigation and its effect on methane dynamics.
Relevant Publications:
Wood T.E., Yang W., Silver W.L., McNicoll G. Anaerobic methane oxidation or ineffective oxidation inhibition: a test of diflouromethane in a carbon rich soil. In preparation for Soil Biology & Biochemistry.
---
Controls on soil respiration of a secondary moist tropical forest in Puerto Rico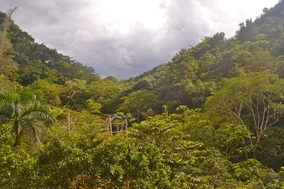 Soil respiration is the largest natural flux of carbon dioxide (CO2) to the atmosphere, and tropical moist forests are characterized as having the highest rates of soil respiration of all terrestrial biomes. Thus, small variations in soil respiration rates in these forests can have a large influence on atmospheric CO2 concentrations and future climate. Despite the importance of this process, we know little about how abiotic and biotic factors interact to directly and indirectly control soil respiration rates in moist tropical forests. We are working in a secondary moist tropical forest in the karst region of Puerto Rico. We have been measuring hourly CO2 efflux since March 2011 and are working to identify
the key biotic (i.e., plants, microbes) and abiotic (i.e. temperature, moisture, nutrients) factors that control temporal patterns of soil respiration in a moist tropical forest in Puerto Rico.



Relevant Publications:
Gutierrez del Arroyo, O., Wood T.E., Lugo, A.E. Controls on seasonal variation in soil respiration of a moist tropical forest in Puerto Rico. In preparation for Global Biogeochemical Cycles.
Gutierrez del Arroyo, O., Wood T.E., Lugo, A.E. Evidence of temperature and plant controls on diel patterns of soil respiration in a moist tropical forest in Puerto Rico. In preparation for Global Change Biology.
---